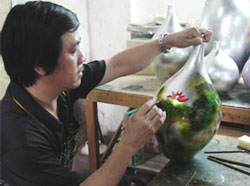 A trade mark which is well known by its harmonic combination of the essence of 500 years history of traditional Bat Trang Ceramic, the creativeness in looking for the new things and the understanding of customer's taste as well as the market development trend, is created by the designer - Artist Nguyen Nhu Quang.
Coming to Quang's Ceramic products, you will understand the essence of Vietnamese soul, the appearance of the age-old tradition of Vietnam culture. In addition, you will have in your hand a modern styled and convenient product.
Quang & Artex JSC is a big manufacturer with a series of workshops producing hand made goods and a large-scaled factory with over 500 employees. We can meet the need of customers with respect to unique style, quality and timing.
The products of our company have been present at many countries such as United Kingdom, France, Germany, Italy, The United States of America, Canada, Japan, Australia etc.
The development of Quang's Ceramic is in creasing day by day together with customer's confidence.
QUANG & ARTEX JSC

Head Office: 95 Ba trieu St - Hai Ba Trung Dist - Hanoi - Vietnam.
Tel: 84(4) .945.4235 - 84(4).945.4236 Fax: 84(4).945.4237
E-mail: quangceramic@hn.vnn.vn

Showroom: 63 Hang Trong Street, Hanoi. Tel: (84.4) 9286349
Factories: Bat Trang - Gia Lam - Hanoi
Quang's Ceramic, Mao Khe - Dong Trieu - Quang Ninh